Finding and developing new leads is critical to expanding a successful business. With Prospecting, it is easy to find leads based on public property characteristics and transfer or sales history. In just a few simple steps, you will be ready to export a file or create mailing labels for a targeted list of leads.
Using Prospecting
To get started, click the prospecting tab at the top of the page.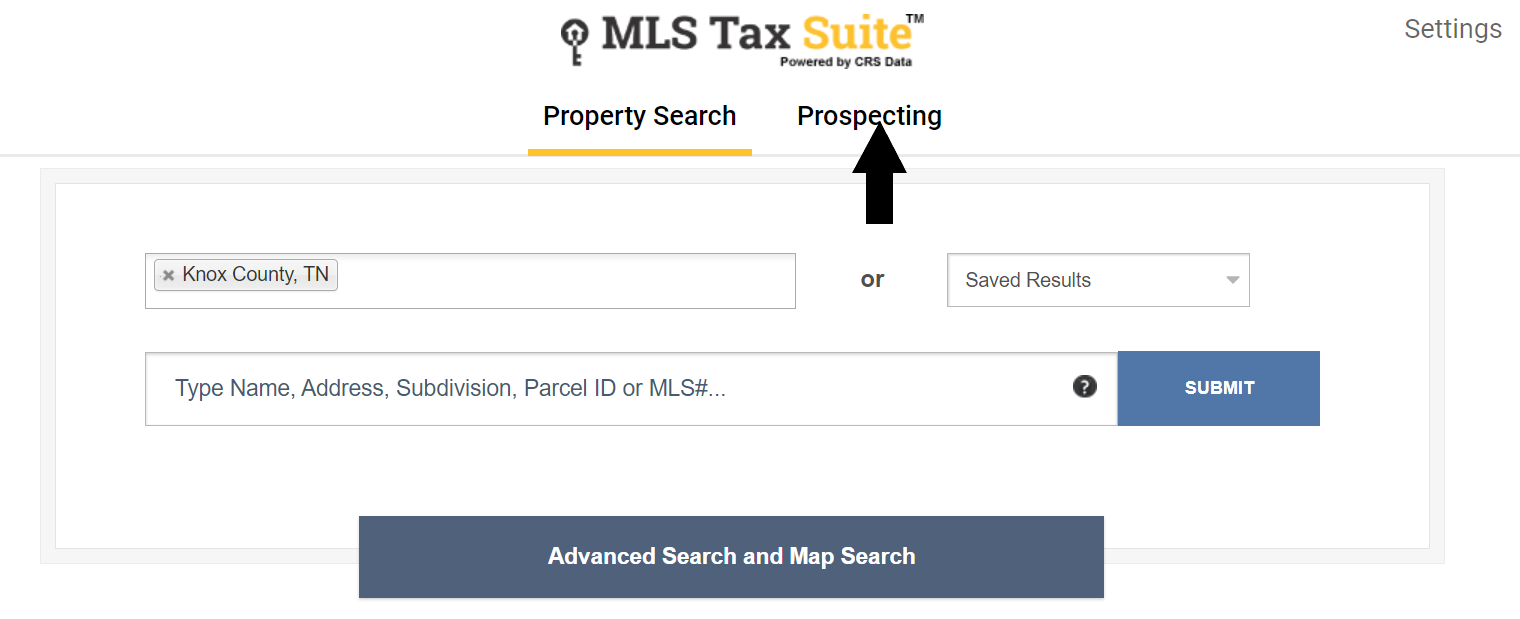 Selecting Your Criteria
Your first step is to select the county(ies) in which you would like to prospect. You may select up to four counties at one time. Select the box on the left to see a list of all available counties. You may also begin typing a county name to refine the list. In addition to the county list, you may search by Owner Name, Address or Subdivision. If you have saved criteria from a previous search, simply click this box and your saved searches will be available.
Note: Not all counties have data to support each available filter. If one of the filters seen in the video is not on the filter list, then data isn't available to prospect by that filter. For example, if Baldwin County, AL doesn't have subdivision data, then Subdivision will not be available as a filter.
Search Filters
Search results can be refined by using any of the Search Filters. There are many filter options including MLS Listing, Cash Buyers, Year Built, Ownership Duration, and Mortgage Age. Select any of the filters to have your results list updated in real-time. Results can be refined as much as you like. For example, if you would like to know if a property lies within a flood zone, you may select Flood Zone as one of your search criteria.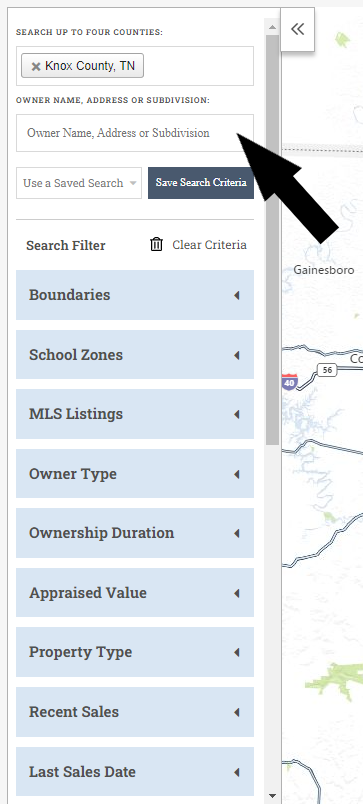 Using the Map
Within the Prospecting tool, there is an option to refine your results by using the Map tool If you would like to limit your search area within set boundaries on the map, use the "Draw" tool by selecting the Polygon, Rectangle, Circle, or Freehand options. Once you have selected your area, you will then need to select "Include Selection" or "Exclude Selection".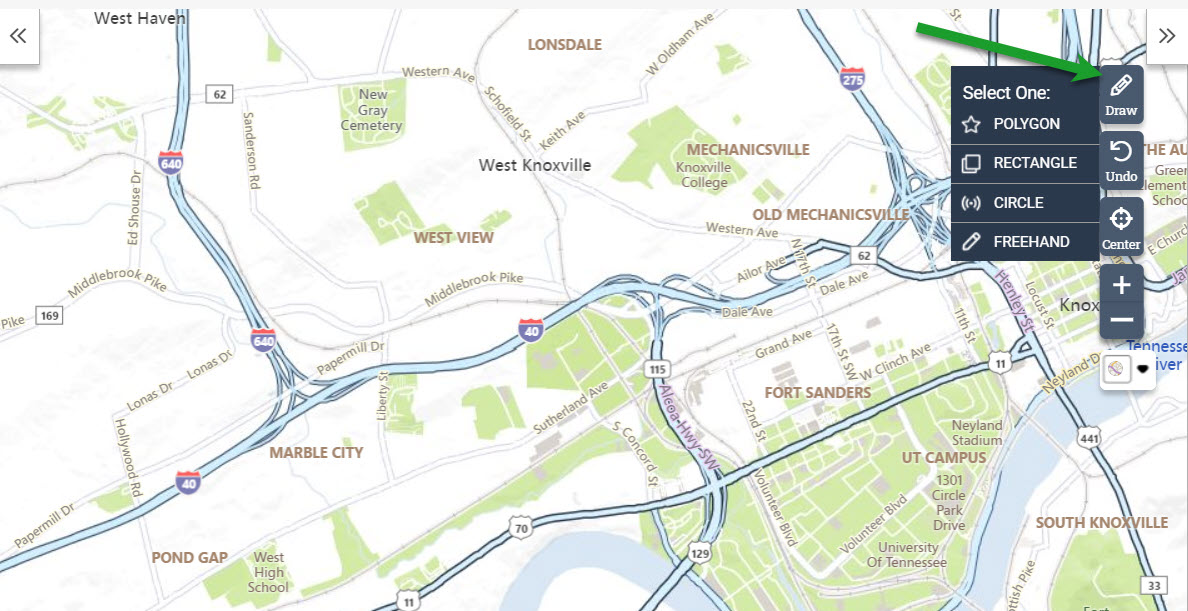 Updating Map Results
If you would like to adjust the location parameters within the map, select the Undo button below the draw tools to clear your selection.
Additionally, if you need a larger map view, you can collapse the filter and results bars by selecting the arrows in the top left or right of the map. Simply click them again to bring back the toolbar.

Results
Once all desired search criteria has been filled out, your search results can be found on the right side of your screen. If you hover over "Legend", properties are tagged as "For Sale", "Sold", "Sale Pending", and "Expired".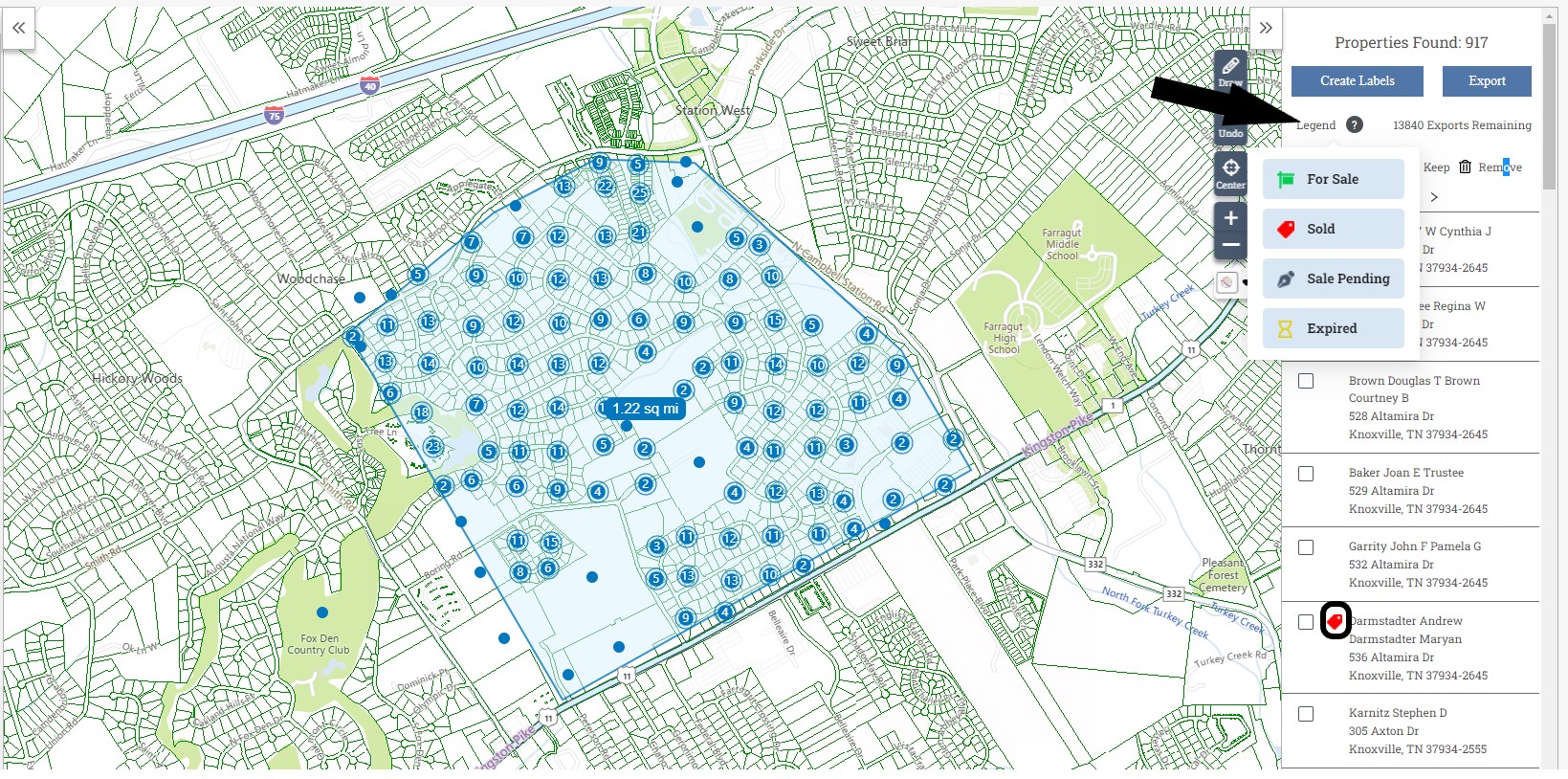 Creating Labels & Export file
You can also select properties for creating labels and exporting a list. To do this, simply click "Select all" or individually check each of the properties you want to include in your list. Properties may also be removed from your results list by selecting the check box next to the property and clicking "Remove".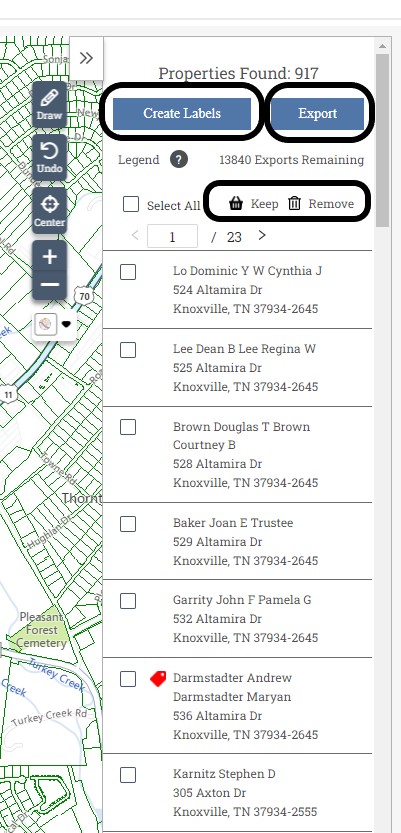 Exporting
Prospecting allows you to easily export your results as a CSV document for use with MS Excel and CRM products. After you have selected your results. Click the "Export" button at the top of the results bar.
You have a set number of exports available each month. You can always see how many exports are remaining at the top of your list.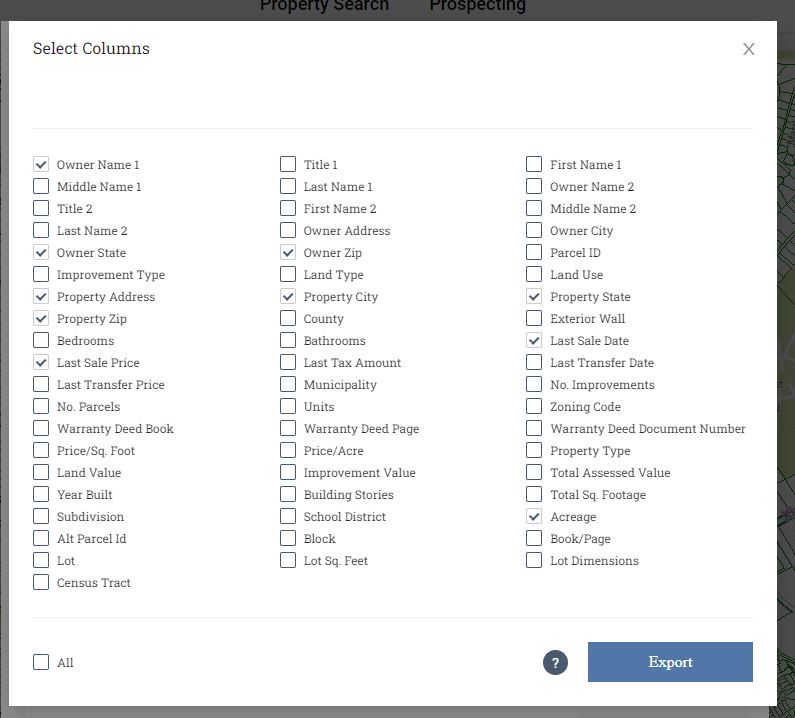 Create Labels
Prospecting makes it simple to create labels for mailers. After you have selected your results, click the "Create Labels" button at the top of the results bar.
A new window will appear that will let you select customized printing options. You may also select your printing format by choosing one of the three Avery Type label pages available.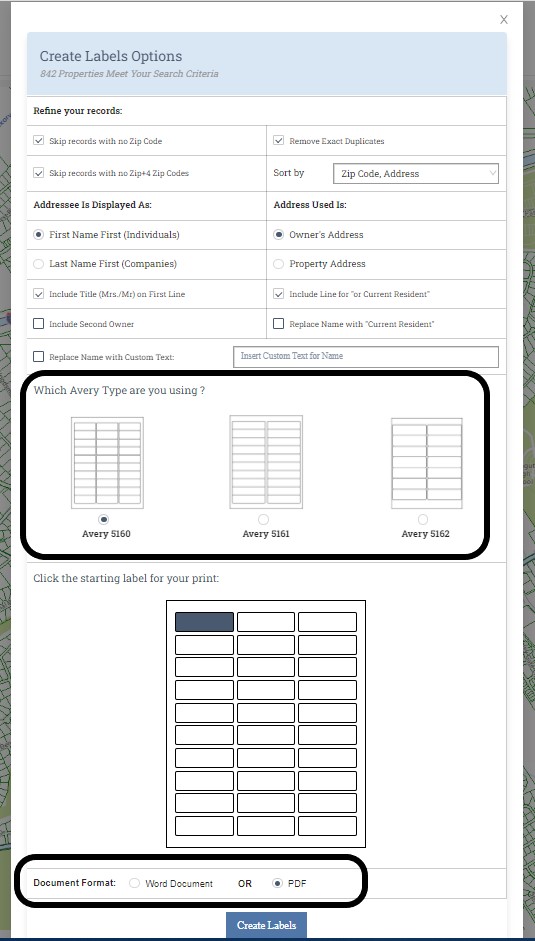 Once you have made your printing selections, choose to save your file as either a Word Document or PDF. The file will automatically download, once you click "Create Labels"